Malek M'hiri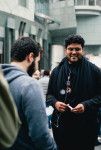 ---
A propos de vous
Deutsch
Malek (er/they) ist ein tunesischer Student der Elektrotechnik an der TU München, der seit Januar 2014 vegan lebt. Er startete Ende 2014 einen YouTube Kanal und ein Instagram Account unter dem Namen A Tunisian Vegan, um vor allem über Veganismus und Tierrechte auf Arabisch zu reden (mit Untertitel auf Englisch). Neben seinem Straßen- und Onlineaktivismus für die Tierbefreiung ist Malek auch eine Drag Queen Namens Molka V Burrito, die sich für die Rechte der LGBTQ+ Menschen einsetzt. Als queer und vegan lebende Person möchte Malek beide Themen zusammenbringen und sich gegen alle Arten von Bedruckung einsetzen.
Links zu den Kanälen sind unten zu finden.
English
Malek (er/they) is a Tunisian electrical engineering student at the technical university of Munich, who has been living vegan since January 2014. In late 2014 they started a YouTube channel and an Instagram account with the alias A Tunisian Vegan to talk about veganism and animal rights in Arabic (with English subtitles). Along with their online and street activism they are also a drag queen with the stage name Molka V Burrito who supports the rights of the LGBTQ+ community. As a queer and vegan person Malek wants to bring both subjects together and oppose to all kinds of opression.
Links to the channels are to be found down below.
Kontakt
a.tunisian.vegan@gmail.com
www.instagram.com/a.tunisian.vegan
www.youtube.com/c/ATunisianVegan_mm
www.facebook.com/a.tunisian.vegan/
---
Conférences / Ateliers